This week it's all about friends. Well actually I'm celebrating the social whirl - special needs style - that has kept me busy since I last posted up my Reasons to be Cheerful in mid-November….How did that happen?
Since them I have spent time with friends from every era of my life, right back to my teen years in school. Thanks to the internet I'm more connected with those friends I used to hang out with years ago than ever before and sometimes they actually come over to visit!
This lovely lady and I have been friends since we
met at work in the early 1980s
The previous week I spent a few days with one of those special friends from my crazy teenage years. Both friends brought their husbands and I spent a couple of happy days in Dublin exploring all the touristy places that I normally forget to visit.
I also managed to squeeze in coffee with
Jazzygal
, a trip to Newry with one of my autie mum friends and a night at the cinema with my eldest daughter.
Oh yes, I
nearly
forgot: there was also the
Autism Mommies Christmas Party
…
You wanted to see the dress, right? Weeeeell, I still love it cos it's so comfy and low key and just right for me.....
but
it doesn't look so great in the photos.
Some of the autism mums at the Christmas Party
It was a
recipe
for an almost perfect Christmas party.
It had all the right
ingredients
:
...Great clothes
...Fab company
...Feeling like part of a community
...Food cooked by someone else
...A drink or many, depending on whether you were driving home or not.
...A bit of dancing.
And the
method
worked pretty well too:
Mix all the ingredients together thoroughly, season with a few surprises and serve!
The surprises
A wonderful autism themed goody bag
Chocolate for comfort, mints for fresh breath, a charm bracelet to put a smile on your face and a couple of bath bombs for a bit of relaxation after all that dancing. No they weren't fizzy sweets, and I glad that someone else tested that theory before I made the same mistake…
Now the other surprise was that the goody bags were given out by some very young men wearing very little, to the delight of most of the women there! I was quite happy to let the other Mums enjoy their company though.
So apart from the scary toy boys, and one missing friend, it was almost the perfect Christmas party, and a great reason to be cheerful!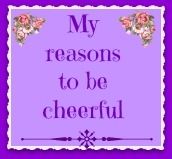 Reasons to be Cheerful is currently being hosted over at
Ojo's World
who also writes about special needs.