My special needs 17 year old does not like the sunshine. She was in hospital for so long that after she emerged blinking into the outside world at 6 months, she couldn't keep her eyes open in daylight for long. But she loves going out! And I can't always find a shady side of the street. So from time to time we've tried to introduce sunglasses, and earlier this week her big sister Angel kindly tried her out with her favourite pair. It was not a success....
Now to me this photo is really cute, but as my daughter is non-verbal, I'm not sure what she thinks, so perhaps I am being a wicked mum by sharing it? But you know how much I love her, right?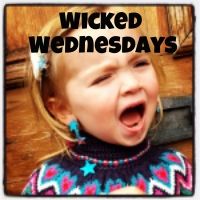 Just click on the icon for more #wickedwednesday pics..