I wrote
a post about autism
this week, but I think it was a mistake. Readers assumed that it was about my son even though he wasn't mentioned. More posts were planned, but it looks as though this blog will have to become a completely autism-free zone, to protect my son now he is a teenager. That's even though autism is the thread that runs through everything we do as a family. I still write about it, and it's good to let go of all those feelings, but pressing publish would be better again, and I know that I can't. It's depressing and I think my blog has suffered. That's partly why I'm doing more linky posts, they keep me entertained, but perhaps not you...
So today it's all about my reasons to be cheerful and striking mums again, and apologies if some of this is not new.
I am five
I didn't even notice the anniversary, but my blog turned 5 this week. It was begun with so little thought that it's hard to believe that I am still writing here, and that so many lovely people are still reading. Thank you.
A successful election
Smiley didn't win, despite all the cakes I sent in to encourage everyone to vote for her! But she did come second, and she is
very
proud in her new role.
A tidy house
It's not quite what you think, not everyone would be impressed, but it
is
a huge improvement. The gaffe is no longer carpeted with small plastic toys or
abandoned clothes
. Nope, my kids are starting to care about their surroundings and do something about it too.
The DIY queen
Well not quite, but I did manage to
fix the broken toilet
, the one that had been broken all summer...
And also on the toilet theme, my son not only set foot inside a shopping centre at the weekend but also minded Smiley while I made a quick trip to the Ladies. On my own!
The Postman rang again
This week it was my turn to get excited when
the postman rang the doorbell
to deliver these.
One new
Mia Tui
rucksack for when
I need to escape
, and also.... well all will be revealed later.
And, finally
I also met up with friends for coffee, and for dancing. Until Friday, it was as good as it gets x
More reasons to be cheerful over at
Ojo's World
.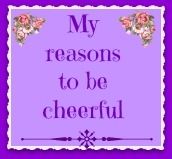 Did you see the wonderful Lynda Bellingham on the TV this week?
I rarely watch daytime TV, but I caught this interview, and I could not turn away. She was so inspiring about living life to the full in the face of terminal cancer. And it was Lynda that
Kate on Thin Ice
was thinking of when she came up with this week's questions for her #StrikingMums series: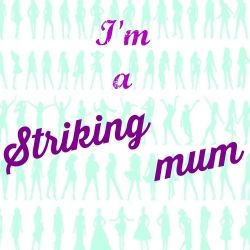 1. Tell us about a mum who inspires you. What are her special qualities?
Six months ago I wrote about
Five Women who inspired me
. But the one I remember the most is Everywoman, who could also be EveryMother. She's not famous, she's not celebrated, but she is the backbone of the family and the local community too. I wish I could be like her.
2. Are you happy? If not, what is stopping you?
Can anyone be happy all the time? Is that perhaps too ambitious? I embrace moments of happiness and hold them tight, like when my children smile at me, or laughing with friends, or singing along to the radio, or pausing to look at the pinky orange clouds as the sun peeks over the chimney tops.
3. What little things that don't really matter do you allow to get to you?
I've learned to ignore so many things now, but anything involving waiting, such as traffic jams, checkout queues and automated phone systems, they drive me insane. Other people can upset me too, especially when I worry that I've said the wrong thing.
4. Who do you need to talk to and why are you putting it off?
Oooh, I'll just go and check my "to do" list, there's bound to be a few on there ...
5. How are you inspirational? If you are not quite sure, ask someone close to you and see what they think. We do not always see ourselves as others do.
I am not at all comfortable with the idea that people think I'm inspirational! It just make me feel like a fraud, because I am the most unlikely person ever to become a carer, and I'm only doing what anyone else would do if they found themselves in the same situation. Which is: I'm a lone parent to three children, two of whom have different special needs. I adore my children, but I don't really like life as a carer, so this blog is one of the ways that I try to improve my life and focus on the good things. Perhaps that's why it's still going after five years...