(For Reasons to be Cheerful and Striking Mums)
The Postman Rang Once
Tuesday did not start well. Nothing went wrong, I just felt miserable, for no apparent reason. Not even the prospect of doing that bendy shit (see comments
here
) could lift my mood. And then the postman rang the doorbell. Admittedly this usually means something good, after all, bills don't come in boxes, do they?
But on Tuesday it turned out to be a very special parcel. There was great excitement in the house, and that was just my 22 year old. So what had arrived?
Well this. Which was much tinier than I expected, plus a year's free subscription to Netflix, all thanks to this little blog! So I've joined something called the Netflix Stream Team and I will be reporting occasionally on how we all get on. So far it's looking good. Smiley was the first to try it when she came home from school and we watched an old episode of the RugRats together. It's perfect timing for her, because all three of our donated video players have stopped working, so having Netflix means she can continue to see her favourite programmes. Meanwhile her brother and sister have been exploring what they can do with it on the big telly, and it's great to see them in the living room again. Netflix could really help bring this family back together. Fingers crossed.
And the possibility that Netflix will get everyone out of their bedrooms and back into the heart of the family is this week's reason to be cheerful - head on over to
Ojo's World
to read the good news from other bloggers.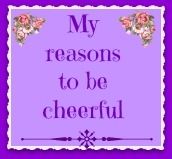 A little light laughter
I often think that middle aged people can be horribly serious, it's like they've forgotten how to have fun amidst all their responsibilities. Perhaps they don't have time. To see whether it's true or not,
Kate on Thin Ice
has chosen the lighter side of life for this week's Striking Mums. Loving her questions, because they make it easy and make me think....
When was the last time you laughed out loud? What led to this?
In the kitchen earlier this week with my kids. As the kids mature and my parenting evolves, home life is gradually getting calmer, and there is now the space to have fun. It just happens, as we all amuse each other. This week it was ninja training while I cooked the dinner. If only they'd let me record it!
What is the silliest thing you have ever done?
Now that I have the memory of a goldfish I couldn't possibly tell you. But I
can
tell you about the silliest thing that I did
this
week. Line dancing. Something I never thought I'd try, and I actually enjoyed it too. The class was billed as 'Shape up and dance' so I had no idea, and yes, I'm going back for second helpings next week.
Ask your child what they would like you to do that is really silly and see what they come up with and reveal all.
That would be FAR too dangerous.
Who is your favourite comedian/comedienne? When did you last watch or listen to them?
It used to be
Victoria Wood,
now it's probably Irish comedian
Tommy Tiernan
, though sometimes he goes too far for me. Perhaps I am getting middle aged after all. As for when, who knows: time flies around here, it could have been a month ago or six.
Who do you enjoy laughing with most?
My children. Well that was a predictable answer, wasn't it?
How good are you at seeing the funny side in challenging situations?
Not good enough. I'd love to be able to find the funny in everything, and I know people who do.
Make us laugh with a joke or a funny anecdote about being a mum.
See a request like that just makes my mind go blank. Anyway, I'm only funny by accident, or so I'm told. I don't really tell jokes or funny stories, I'd be too worried that no-one would laugh. The mad things in this house just happen, unscripted and unexpected, and that's the way I like it.
Wishing you all a lovely laughter-filled week.