I've decided that September is my favourite month of the year. It's a time for new beginnings and good intentions. Family life here is unusual at the best of times, but in September at least it was blissfully predictable. That gave me head space, to do things for me, time to think, solve problems, get things done. But now unpredictability has crept in again, and every morning I wake up not knowing what the day will bring, or what plans will have to be changed or adjusted. This is when working on my reasons to be cheerful becomes more important than ever. And I have a big one for this week!
Road Trip
Really, is there anything better than a road trip during school hours to lift the mood? Especially when unpredictability meant that it had to be cancelled last week...
So yesterday, as soon as the school buses departed, I headed for Newry with my "sister", as the Sainsbury's check out operator described her. It's a long time since anyone suggested that I had a sister. Sadly she isn't, but she is a very good friend and fellow special need mum - we share the same hairstyle but have different accents!
These days Newry is a relaxing place to visit, and some of my overwhelm is gone now that I have most of the birthday, Halloween and Christmas shopping done. The relief is fantastic.
I came home totally energised, and managed to sort out the teenagers, take in the Tesco delivery, put on a wash, clean the living room and hide all the loot before sitting down with my laptop at 6.
Productive days and happy children are a great start to the weekend. And there was a bottle of (cheap Northern) wine chilling in the fridge too.
Click on the badge for more reasons to be cheerful hosted this month by Jo at
Ojo's World
.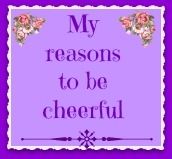 Striking Mums
Style is the topic for the Striking Mums this week and how it changes after children. In many ways that's hard for me as my style would surely have changed in the past 22 years whether I had children or not. But looking back at photos of me in my 20s, the main difference now is that I wear longer sleeves and hemlines.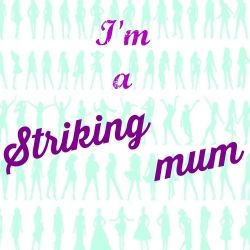 Here are this week's questions that
Kate
has set on style:
1. Would you describe yourself as stylish? Has your answer to that question changed since becoming a mum?
I am certainly not stylish like a yummy mummy. Looking down at my jeans, runners and purple T-shirt, my style is more like that of a very mature student. And I guess it always has been.
Chrissie Hynde
was my style icon: I aspired to her "Don't mess with me" look, but often got side tracked. The black eyeliner though has become an everyday staple, but I couldn't wear anything like black leather to my job in PR. There I was expected to present a very polished front (not easy for a young Mum!) and I often got it wrong, and still wonder why there are no gentlewomen's outfitters where you could get kitted out office-style, from head to toe.
So my style is comfort and camouflage: comfort to see me through the days, and a camouflage that presents the person I would like to be to the world.
2. Describe a stylish outfit you wear/wore and loved.
That's easy. There was this little hippy shop in Hereford near where I grew up. You know the kind. It sold incense sticks, silver earrings and little beaded purses. And a few clothes too. It was there that I found my "thin" dress: black velvet, slim, over the knee, long sleeves, with a cut out back partly obscured by a big floppy bow. It was almost impossible to dance in and you had to walk very slowly in it, but I enjoyed every second of wearing it, and my daughter did after me too.
3. How important is it to have an individual sense of style as mum?
That is an individual choice. But keeping some sense of individual style may help balance the loss of self-esteem that many women suffer through the demands of motherhood.
4. Are you ever embarrassed about how you look when you are out and about?
Not usually, but there was one memorable night when I had arranged to go to the cinema with my stylish eldest daughter, and I just threw on some runners and an old coat as I'd no time to get changed. She totally cringed and I never made that mistake again.
5. Do you judge people by the clothes they are wearing? Do you feel judged?
I hope that I don't judge people by what they wear, but when you meet someone for the first time it's almost impossible not to look at their style and make assumptions about them, based on their appearance. When you meet a friend, you may try to work out their mood based on what they are wearing. Don't they say that we dress for how we feel? I know I do. Bright clothes when I'm feeling confident and happy, black when I'm not.
6. Does having a sense of style all of your own help with self-confidence?
Absolutely, see above!
7.. A challenge – put together an Autumn outfit and post a picture of you in it on your blog. If that is too much, you could just photograph the items in the outfit. You can use things you already have or throw caution to the wind and go on a shopping spree.
I tried to take a night time selfie in yesterday's outfit, with a flash where my head should have been. But I really don't think that you want to see it. There are a couple of autumn outfits on this
post
. And the little blue number? I love it nearly as much as my "thin" dress.