Okay so I'm doing a bit of cheating here and mashing together two posts, but it does make sense, as you'll see. There are lots of reasons to be cheerful and grateful right now, not just because of Christmas, but also a sense of how lucky we are as a family to be living in Ireland, and not Pakistan or Syria, or Ukraine or Sierra Leone or Mexico or any of the other countries where terrible things are being done to ordinary people. And at last we have a reasonably happy home life too.
We've got a year's supply of chocolate, and I've finally got a lamp for the living room, which is helping me to fall in love with my house all over again: it
is
lovely, but looking after it on top of everything else feels like too much sometimes.
It's going to be a quiet Christmas here: next week's diary has just two entries, and one does not involve me at all. The school term finished today, so I have two teenagers (and a grown up daughter) to entertain with very little outside help. We will be taking things at a slower pace, getting up later, doing less. There will be walks, and of course there will be shopping, coffee and cake with Smiley, and hopefully swimming too. There will also be long evenings to fill, so I am feeling really grateful for our year's free subscription to Netflix. Lists of films and programmes are being drawn up as I write....
The Hobbit, Parts I and II
were watched last weekend in anticipation of a family trip to see
The Battle of the Five Armies
on Tuesday.
I am Number Four
because I've just read the book, thanks to a recommendation from Jax at
Liveotherwise
. It's science fiction with a heart and set here, not on some random planet populated by barely believable aliens.
The TV series'
Getting On
and
Call the Midwife
as lots of friends have told me to watch them.
Top of the children's list is
The Winter Soldier
as they are huge Marvel fans and my son has not yet seen this one.
There is a big
Miranda
fan in this house too, so I'm hoping to use that as another excuse for a family get together, and it's on the actual telly on Christmas Day too.
Finally (so far) there will be a girls night when Angel and myself watch
Red Dawn
, which apparently involves a totally implausible plot about an invasion of the US foiled by teenagers. That'll be a good one to watch after a tough day. But maybe there won't be any tough days. Because I think our luck is finally turning, and that would be the best reason to be cheerful of all.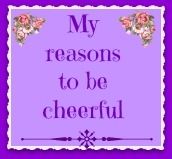 And if I don't see you again beforehand...
Disclosure: I have received free Netflix streaming, and a streaming device as part of my membership of the Netflix Stream Team. All opinions expressed in this post are my own.